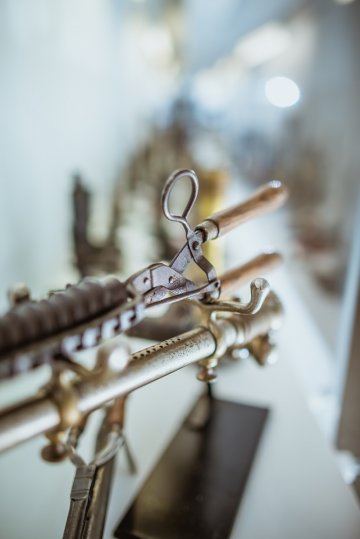 Gas – the harbinger of modernity
These silent companions of our daily lives are also evocative of global civilizational changes. Cookers, heaters, refrigerators and lamps have made people's lives more comfortable and more streamlined – flowing with the rhythm of the industrial revolution. Gas appliances arrived in households together with the supply of the new type of fuel.

Gas was generated at the municipal gasworks which began to be constructed from the start of the 19th century. These, in turn, used millions of tons of coal, delivered by rail from mining regions. All this to warm up the heater, start up the mangle or heat water in the bathtub…

Just like today's electricity-powered appliances, household gas devices could only work thanks to a stable gas distribution network. The introduction of these household devices heralded a lifestyle revolution which is still ongoing, as we continue to seek ever-more convenient ways to solve our day-to-day problems. In this way we are becoming increasingly dependent on being supplied with energy, news and entertainment.

That is why we should take a closer look at the old gas devices – they are like letters in a bottle sent from the past which can also tell us something about our world today.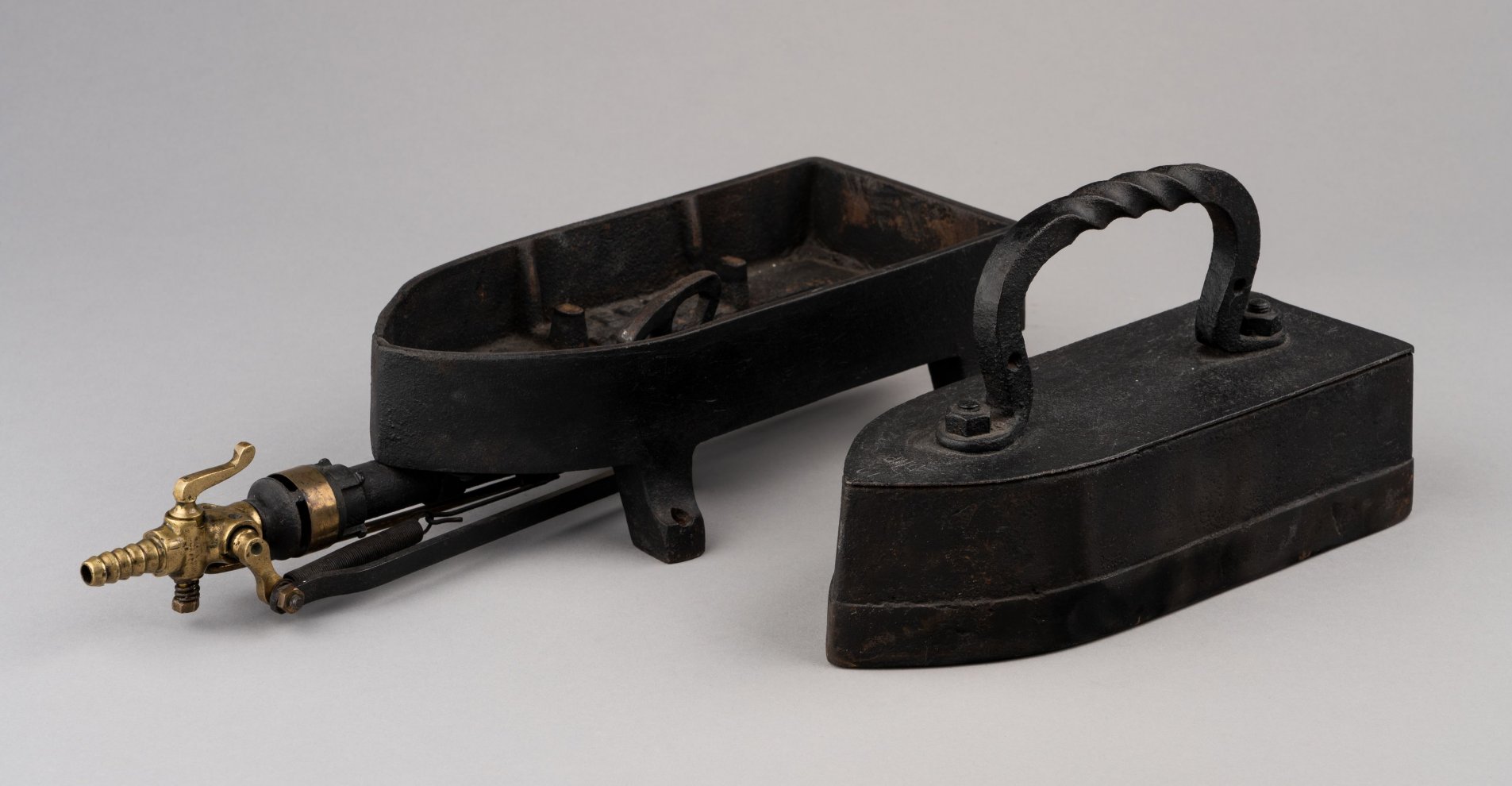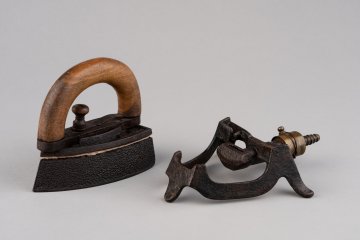 A good housekeeper's tool
Any lady of the house worth her salt knows that the best ironing results require a suitable temperature.

For the fabric to be perfectly smooth, the flame on the heating element has to have a blue and green centre, it should not jut out outside the top of the iron, it should burn calmly, without flashing and … one can finally start ironing.

This is nothing in comparison with coal-powered irons, where a tiny moment of inattention means that all the fresh tablecloths have to be sent back to the laundry. You just had to beware of burning yourself, because a gas iron quickly heats up to very high temperatures! Luckily, this particular iron was fitted with a wooden handle.
Professional iron
This iron was powered by two burners, which were adjusted using heat-resistant ceramic valves. This solution allowed the iron to be heated to high temperatures and used for a long time. These conditions had to be met by irons used in any tailor's workshop.

This device, manufactured by the German company Pega, most likely at the beginning of the 20th century, was donated to the Museum in Paczków by a local tailor.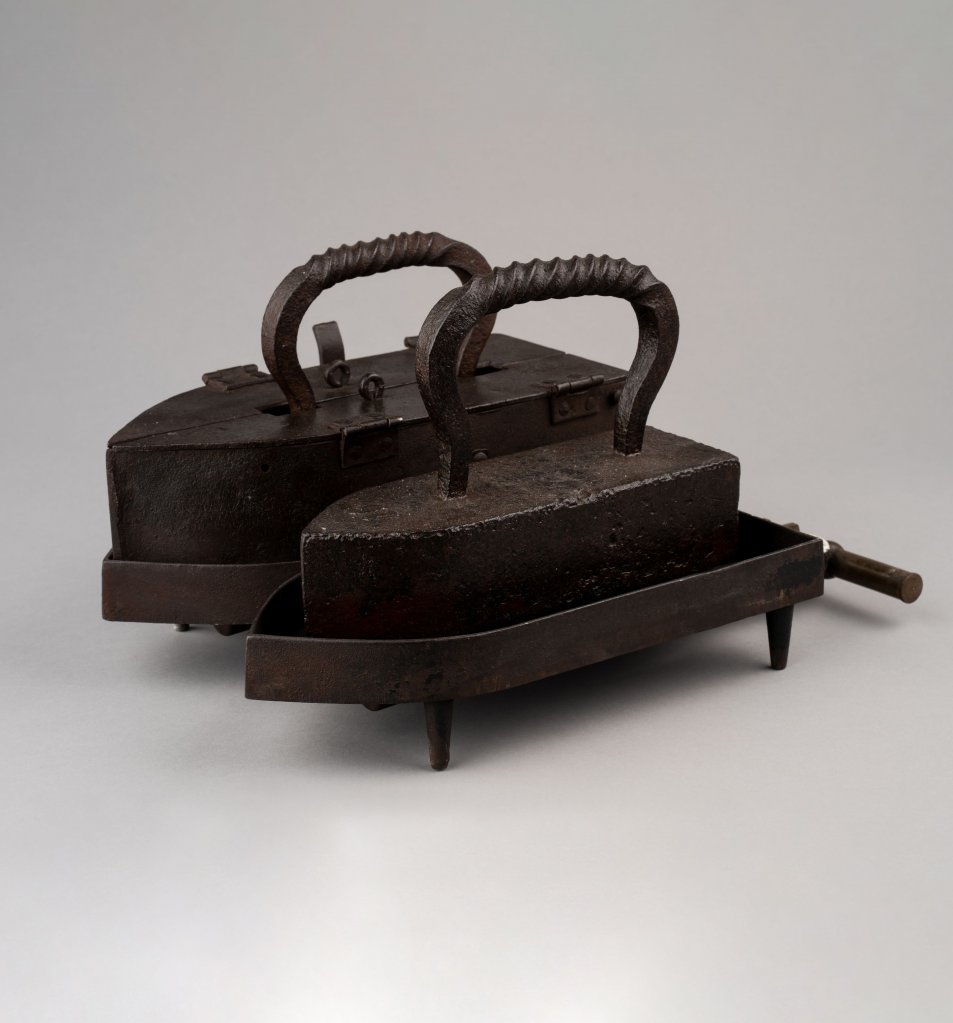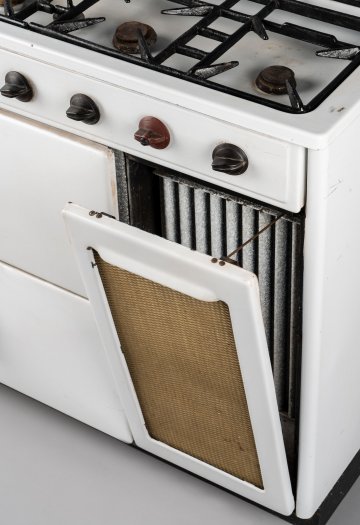 Practical and economical
Gas is a convenient source of energy but also a source of additional house maintenance costs. That is why the designers of gas solutions made the use of gas as economical as possible. This range is a perfect example of their efforts. It uses gas for many diverse purposes: cooking, baking, warming dishes and … heating the kitchen.

This range is fitted with "Junker & Ruh" burners, which make it possible to adjust the size of the flame and use just the right amount of gas. This multifunction design was, therefore, also economical.
Gas-powered resident
In some circumstances, our household devices which we use on a daily basis become part of the family's fabric. This was exactly the case with the "Radiation" gas cooker manufactured by a British brand, which served in the family home of Julia and Franciszek Gorgoń for almost one hundred years. The delicious aroma of cake was a sign that the Gorgoń family was expecting guests. These would include Kornel Makuszyński – a famous poet and a gourmet, who visited the house to play bridge. The recent owner of the house gave the gas cooker the respect it deserves and donated it to the museum as a valuable exhibit.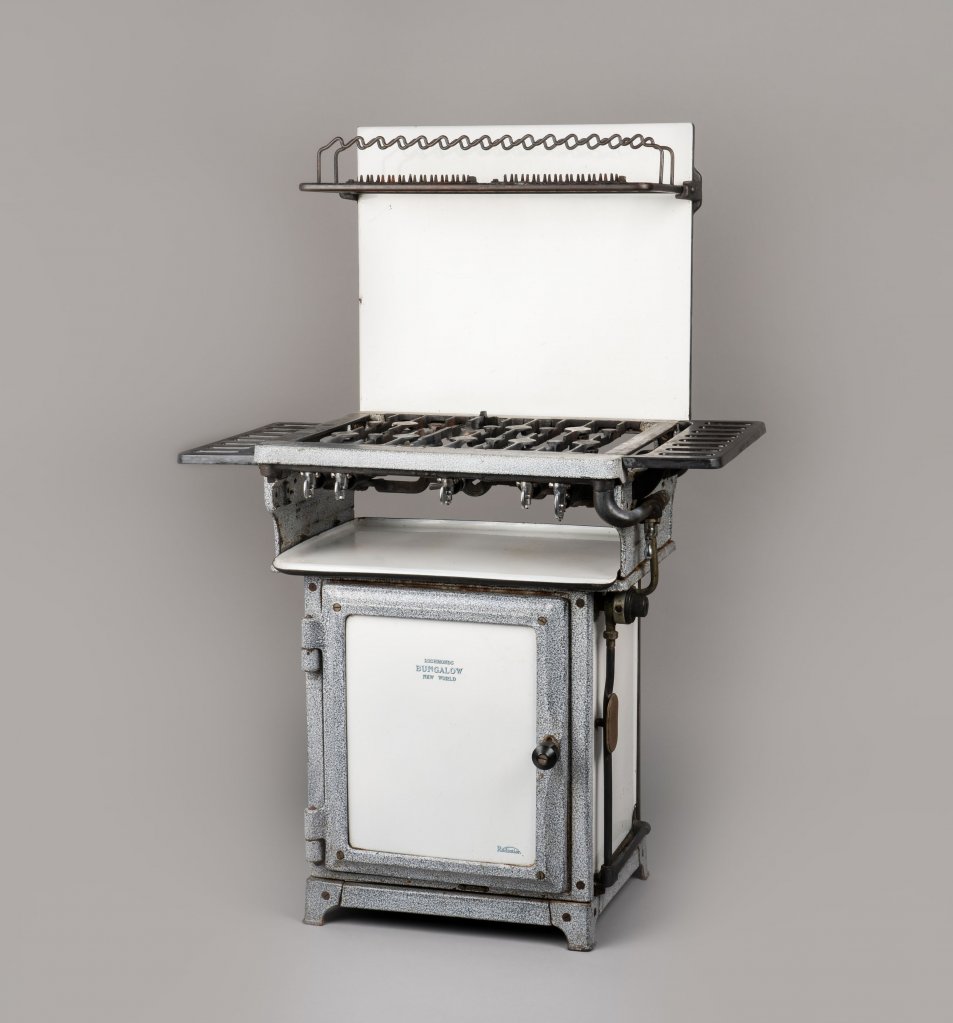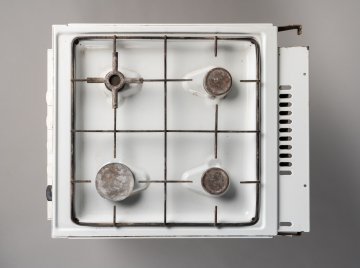 A familiar stove
Manufactured by the Wrozamet plant from Wrocław, "Ewa" gas cookers were probably one of the most popular gas household appliances in Poland.

They were a frequent feature of many Polish kitchens as late as the start of the 21st century.
A cool use of gas
The story of this exhibit proves that gas does not have to be used only for heating. Gas refrigerators of this type could be seen by Polish customers for the first time during a trade exhibition held in Warsaw in 1923. Gas fridges were displayed at the stand of a Swedish company called Electrolux. This enterprise was the first to manufacture refrigerating units dedicated to domestic use. Although, they were popular and innovative at that time, today these gas refrigerators have been replaced by electric devices.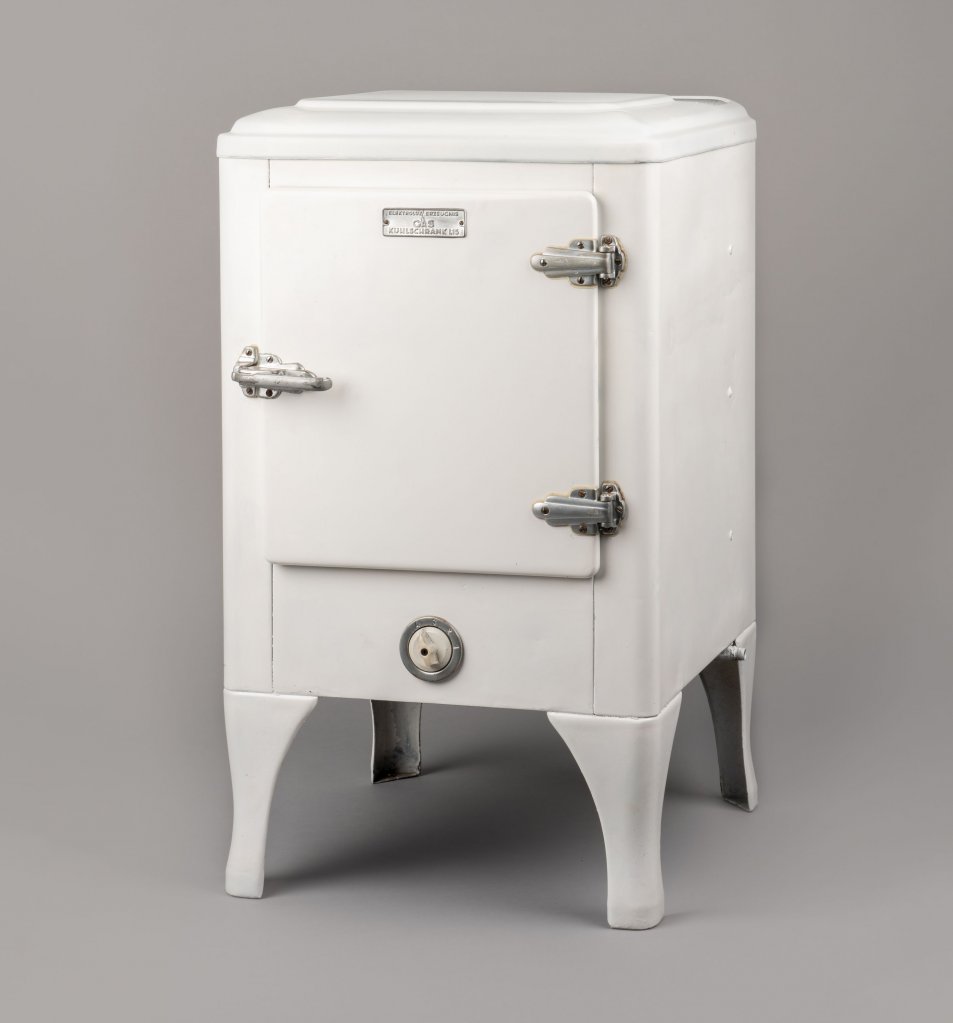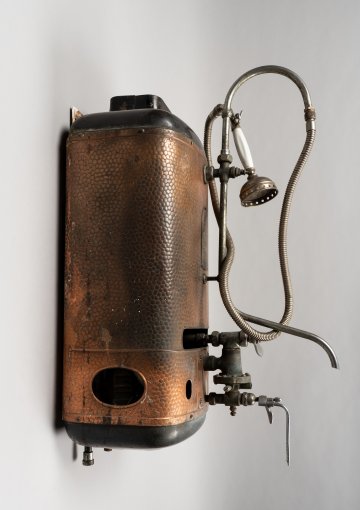 Modern and stylish
Gas appliances accompany us in our daily lives and, as a result, are common features of our houses and apartments. For this reason, its designers try to make them not only functional but also comfortable to use and visually attractive. The gas water heater to the right was designed to be mounted on a bathroom wall. It heated bathwater and could also be used as a shower. The casing made of sheet copper was covered with decorative elements to make the unit suitable for elegant interiors.

Designed by Johann Vaillant in 1905, this wall-mounted bathroom water heater (on the left) not only played an important role in the development of the entire branch of similar products but also brought about one of the most recognisable brands in the industry.
Founding father
Water heaters of this type are considered some of the most popular gas household appliances. Manufactured by Johann Vaillant in 1905, this wall-mounted bathroom water heater not only played an important role in the development of the entire branch of similar products but also brought about one of the most recognisable brands in the industry.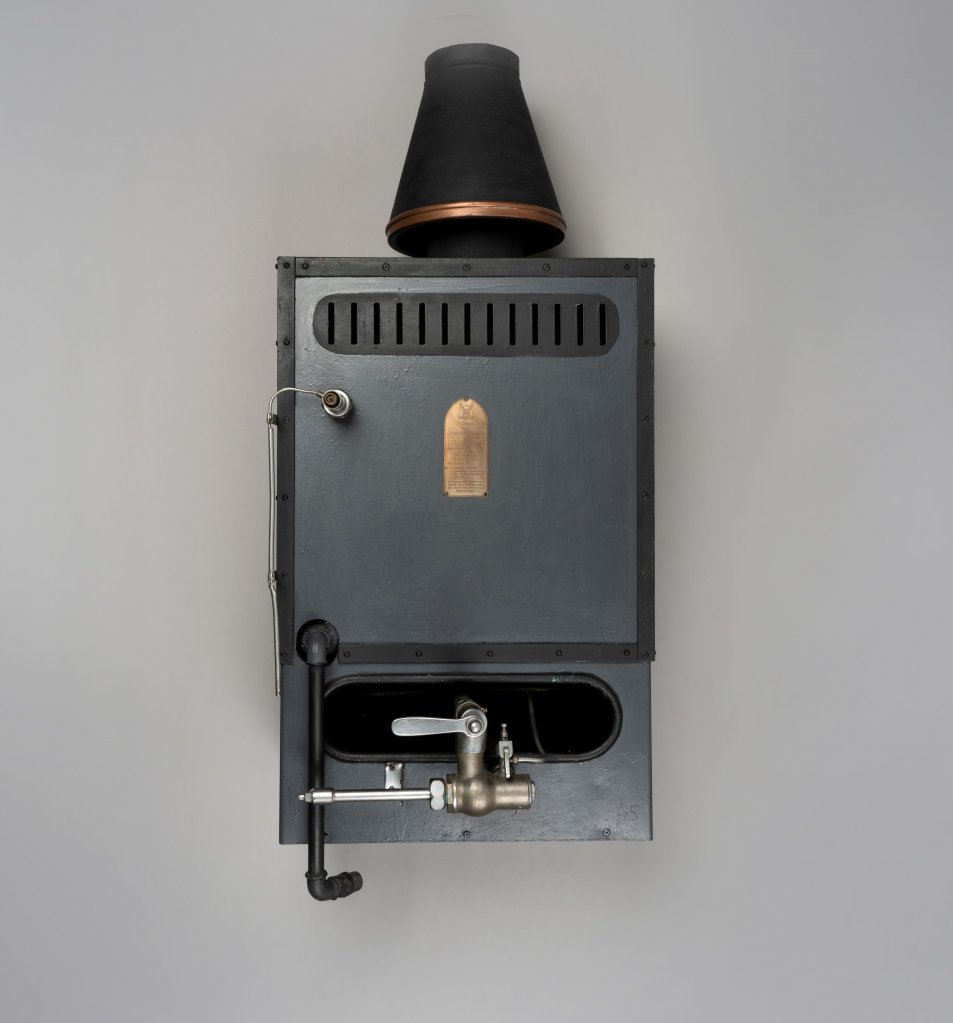 Coffee roaster for coffee connoisseurs
This antique coffee roaster would allow to satisfy the palate of even the most hard-to-please contemporary coffee aficionados. It was used in a store located in Głogówek, which sold colonial goods. The device made it possible to roast selected fresh coffee beans on-site. The aroma coming from the store attracted a great number of customers.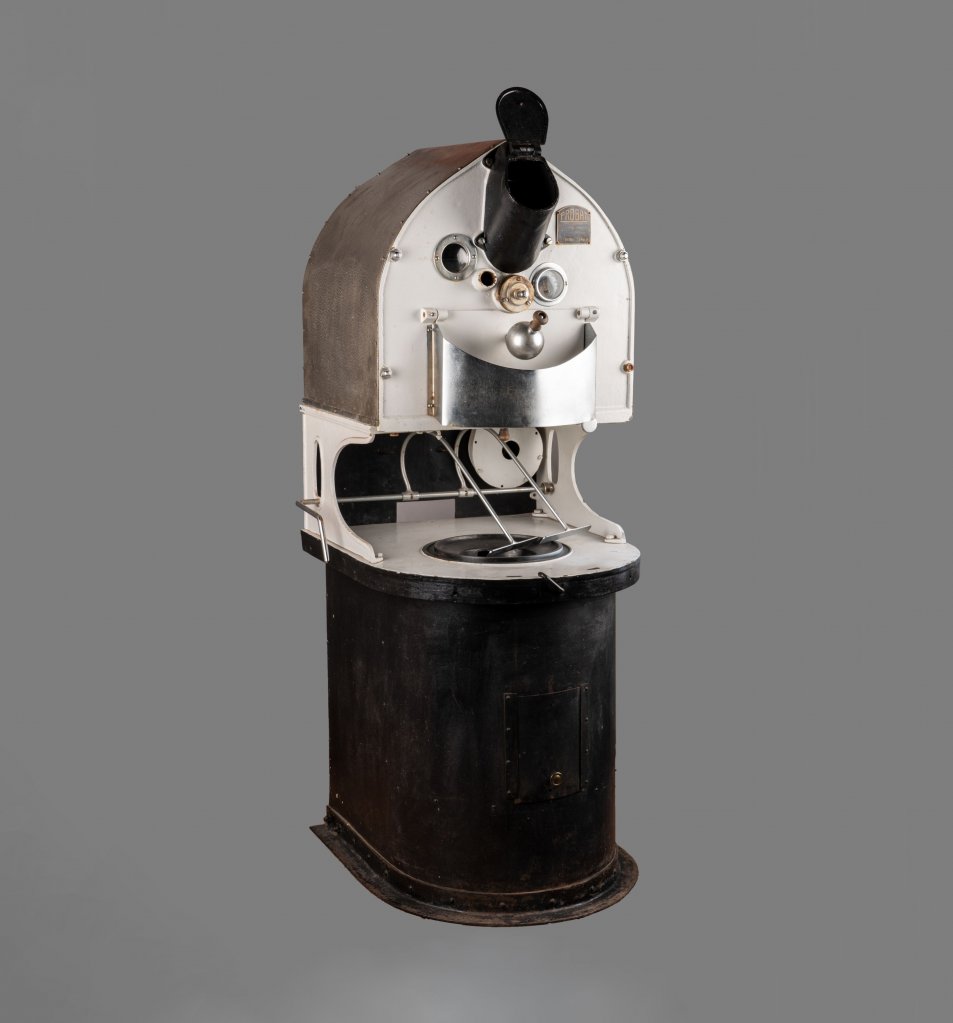 Aristocracy among heaters
Today, gas heaters can tell us a lot about places where they were once used. This particular exhibit is highly decorative – it is made from cast iron and copper, enamelled and gilded. It was intended to provide heat to affluent homes, or even palaces. Such devices also heated church interiors. This gas heater was donated to the Museum in Paczków by the Bishop of the Opole Diocese.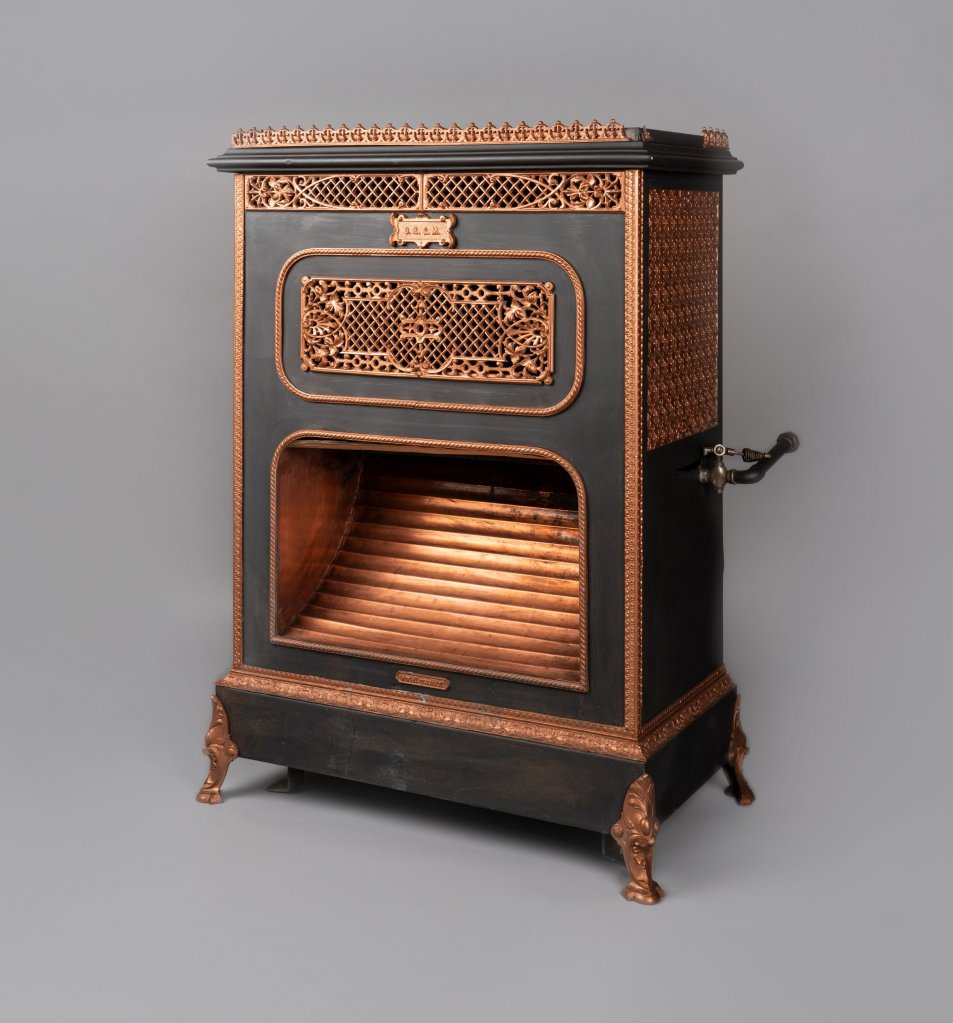 Wholesome warmth
The radiators in Polish homes draw heat from the district heating system or electric grid, while the gas radiator produced heat by burning gas. 

Such gas radiators were often manufactured to heat a specific type of room. Those made of cast iron and steel were specially designed to heat bathrooms.

They were decorated with enamel applied to steel for greater durability and elegance.
See other virtual exhibitions