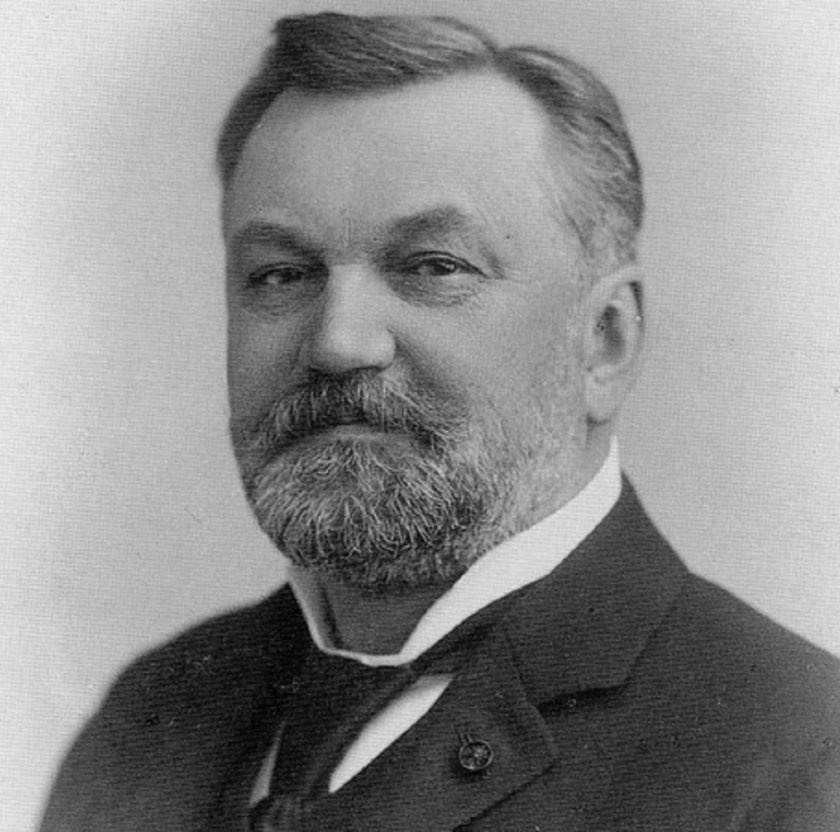 Fot.
Was his goal the efficient use of raw materials or making a fortune? Was it the advancement of science or beneficence? Did he aim for personal achievements or a vision of the country in bloom? Erazm Jerzmanowski accomplished all the above. What is more, his ideas are still valid today, and the award named after him continues to support outstanding achievers. Who was that man?
Jerzmanowski is said to have "illuminated America". Indeed, he must have been an extraordinary person.
Born in 1844, into a landed gentry family with traditions, he took up studies at the Polytechnic Institute in Puławy but quit his education to join in the January Uprising. The uprising ended in defeat, the internment of Jerzmanowski and his forced emigration to Paris, which … presented him with new opportunities.
Thanks to his family connections, he was able to study at prestigious universities of mining and military engineering profiles. Patriotism taught from birth and knowledge acquired in exile. Key values that would illuminate his further journey. His knowledge brought him a fortune, and thanks to his beliefs he knew how to utilise it.

However, before making use his knowledge and possibilities, Jerzmanowski departed for the country … of great opportunities. America, rising from the ashes of the Civil War, was a country that inspired development. Grandeur was a loyal companion to Jerzmanowski; it seemed that the basic motto of his life was to multiply, develop, and make little things great. In America, everything is given extra scale.
How to improve the technology of using gas lighting brought from Paris? How to produce gas cheaper with bituminous coal and then improve its efficiency with additional carburizing using a special device? What about patenting his inventions? A clever idea to turn more into less. Economic efficiency through creativity.

The methods developed by Jerzmanowski were best suited for large plants supplying big cities, and gasworks built on their basis (for example, in Baltimore and Chicago) are considered the most beautiful and elegant plants in the country. The gas offered by the companies controlled by the Polish inventor was on average 15 per cent cheaper than that produced by the existing gasworks, which caused a real pricing revolution and provided Jerzmanowski with gigantic profits.
At his financial peak, he decided to return to Poland, as could be expected from the author of such words: "[…] one thought only guided me, to make a fortune […]. I wanted to make a fortune because I felt that it was the power we needed if we were indeed to rebuild Poland".

Both his inventions and ideas implemented after his return to the country follow a common pattern. Ergonomics, reason, development, equality, education. Return to his homeland with a fortune is the implementation of his intention to rebuild it. Together with his wife Anna, Jerzmanowski moved to Prokocim and became involved with charity work.

As an honorary member of the People' s School Society, he funded a school in Ulicko near Rawa Ruska and a plot of land for a school in Biała. He provided financial support to the "Polski Lud" magazine published by the Society.
His generosity also brought benefits to Teatr Polski (Polish Theatre) in Kraków, a grammar school in Cieszyn, Bank Ziemski in Poznań, the Józef Mianowski Fund and Mutual Aid Society for the 1863–1864 Insurgents. He financed children's shelters in Warsaw, which he named after his parents, and a shelter run by St. Albert Chmielowski. It is thanks to him that we can still admire Józef Mehoffer's stained glass windows at the Wawel Castle.

Jerzmanowski followed a certain principle in his charity work – he believed that one should not provide financial aid directly, but rather "give a fishing rod", support in finding a job, and in further education. He was also a great supporter of women's education.
In his will, Erazm Jerzmanowski donated 1.2 million crowns (365 kilograms of gold) to the Academy of Arts and Sciences in Kraków to establish the Erazm and Anna Jerzmanowski Foundation, which would award annual prizes to Roman Catholic Poles born within the borders of Poland established in 1772 for "literary, scientific or humanitarian work done for the sake of their home country". The prize, known as the Polish Nobel Prize, was awarded from1915 to 1938. It was given to Henryk Sienkiewicz, Cardinal Adam Sapieha and Ignacy Paderewski, among others.

In 2009, in recognition of Jerzmanowski's merits and on the occasion of the 100th anniversary of his death, the Polish Academy of Arts and Sciences (with the support of the authorities of the Małopolskie Voivodeship) reactivated the Erazm and Anna Jerzmanowski Award, which has been since granted annually; the first winner was Janina Ochojska.